Introducing the World's First Wrappable RF Applicator.
CONTOUR YOUR BODY WITH

VELASHAPE®
VelaShape® is a non-invasive body contouring treatment for circumferential and cellulite reduction.* VelaShape enables you to safely achieve a toned, contoured and well-shaped body in typically 3 treatment sessions* (single treatment protocol is also available). VelaShape can provide dramatic results without downtime or significant discomfort.*
Introducing FlexSure™. The body boost treatment that helps you achieve a more youthful appearance. Designed to curve and conform to your body, it specifically targets even the hardestto-treat areas
FlexSure™ uses deep tissue Flex-heating technology, along with the world's first flexible form-fitting applicator, to effortlessly contour to areas once considered difficult to treat.
Each 15-minute treatment delivers a light warming sensation that's both gentle and soothing. Comfortable and convenient, this relaxing treatment requires zero downtime.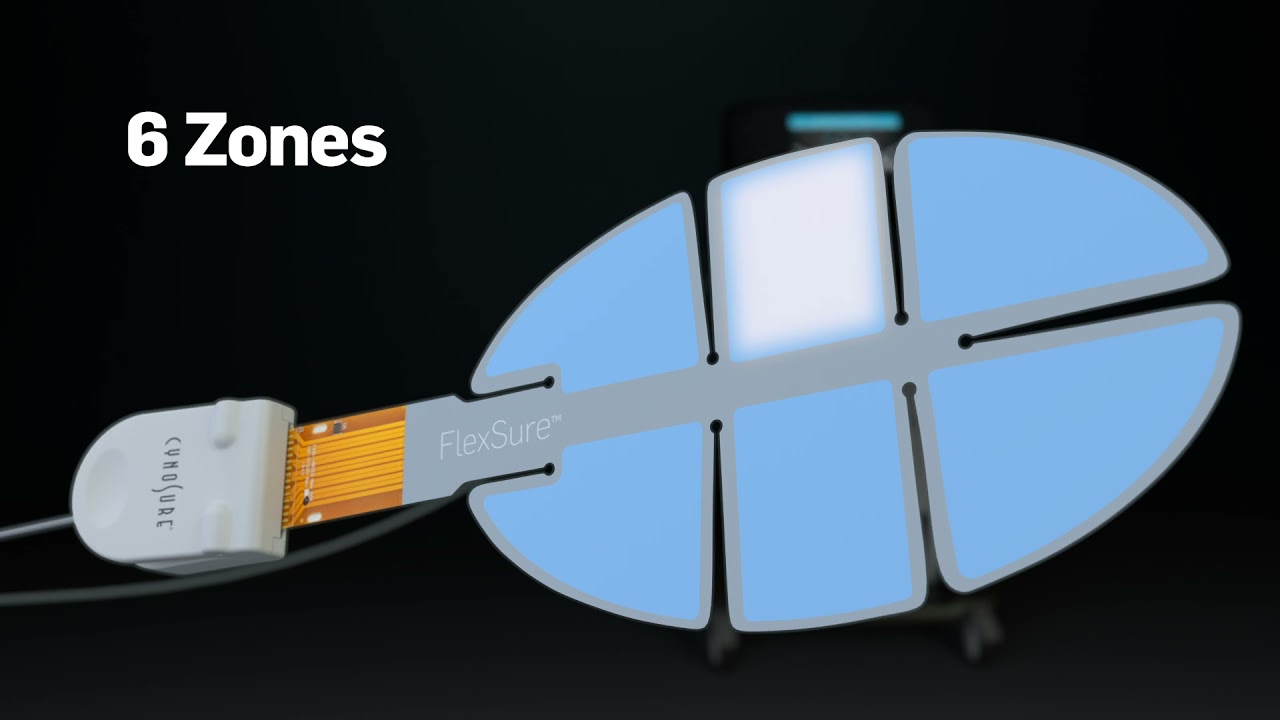 Frequently Asked Questions
The FlexSure™ applicator can be used on any skin type, any time of year, with no BMI restrictions. FlexSure™ has multiple applicator sizes that allow for non-invasive and customized treatments. Since FlexSure™ requires no downtime, you can return to your daily activities immediately.
FlexSure™ is a radiofrequency body treatment that provides deep, even tissue heating. The peel & stick applicator curves and conforms to your body to reach those hard-to-treat areas. Common treatment areas include abdomen, love handles, arms, thighs, and knees, and have been described as a gentle hot stone massage.
HOW MANY TREATMENTS WILL I NEED?
The amount of treatments required will vary by patient. A minimum of 3 sessions per treatment area is recommended. Each session takes approximately 15 minutes, making FlexSure™ a great lunchtime treatment. Speak to your provider for a consultation to discuss your target areas and number of sessions required.
WHEN CAN I EXPECT TO SEE RESULTS?
Results can be seen in as little as 3 treatments, but optimal results are seen after a series of 5 treatments.
Courtney has completely transformed my skin. I have suffered from cystic acne on my face and body my entire life. Thanks to Court, that is no longer my story. We started a consistent routine for me of facials and products about 2 years ago with one goal in mind: that my skin looks so good I don't have to wear makeup. Happy to report that I've been completely makeup free for a little over a year now and I'll never go back. Not only does Courtney know how to heal your skin, she also has a magic, soothing touch and energy that will have you relaxed from the minute you walk in the door. Whatever skin services you choose, you'll never regret time spent with Court and Jane!!

My monthly visits with Courtney are time and money well spent! She is extremely knowledgeable and takes such good care of my skin. I also feel so relaxed and pampered while I'm there because of the cozy spa-like atmosphere. It's the best of both worlds - the highest quality skincare with indulgent relaxation.

Court & Jane are the epitome of the dream business team! I personally see Court for facials and it's a 5 star experience from start to finish. Their space is clean & they are highly knowledgeable with all things skin. I highly recommend seeing either Court or Jane for a HydraFacial..... You won't regret it. Also- as a bonus .... it's like hanging with great friends / therapy session! WIN WIN!

I know, firsthand, how deeply these ladies care about their clients, and I can always count on Court for direct and honest information when it comes to skin care. It's been amazing to see how they've been navigating these times and really placing priority for the safety of their clients over making money. I can't say enough about how great they are!!!

This place is amazing! It is very clean and is a warm, welcoming environment to actually relax - unlike some places that are just too sterile and void of any personality. Court and Jane are friendly and wonderful! You're doing yourself a disservice if you haven't visited them!

I highly recommend Jane and Courtney! They have the best treatments from facials to lasers and body contouring. I would say my facial with Court was the best ever. She listened to all my concerns and then personalized a treatment plan just for me. She is extremely knowledgable and I trust her with my face. My skin has never looked better. Jane is hands down the best in body contouring in TN. On top of that both Court & Jane are 2 of the most genuine uplifting people I know and I always leave feeling happy!

I've visited Court at Skin & Body Sculpting of Tennessee multiple times and always been impressed by the professionalism, cleanliness, and quality of the services. The environment is calming and clean. Court takes time to explain everything that's involved and answers questions along the way - leaving me feeling relaxed and prepared to continue treating my skin better when I leave. I visited recently for a facial and was impressed by the procedures followed to ensure compliance with state COVID-19 mandates and beyond. I look forward to my next visit!

Courtney is the only one I trust with me extra dry, sensitive skin! She has worked wonders on my skin and explains the "why" and educates me on the "how". All of the science. All of the good vibes in her space. I can't recommend Courtney enough! She's also so fun to talk to!!

Courtney is amazing! I've never done any type of laser treatment before so was a little nervous about the process going in but she was adhering to all the Covid guidelines, explained everything thoroughly, made me feel so comfortable and walked through sterilizing everything she used. Will definitely keep going back and will be recommending them to everyone!

Courtney Adams is the absolute best! Her professionalism & attention to detail keep me coming back for laser hair removal and hydrafacials. I appreciate her extra care and concern during COVID-19 to keep both of us safe. She's incredible!!

I cannot say enough good things about Body Sculpt of TN and Jane. She made me feel comfortable from the beginning. I was never "pitched" anything. My questions were answered honestly to achieve the results I was interested in. My results have been spectacular. Jane always called me to make sure I was good the next day and answered any of my random questions graciously in between sessions. And a bonus- if you are going to spend time somewhere for a procedure it is so nice to have Jane to talk to. She is so sweet and genuine. If there were more stars I would give them. So happy to have found Body Sculpt of TN and Jane.

From the moment you step into their office you are made to feel at ease. Jane is very friendly and talks you through every step. She always checks to make sure you are comfortable. I had the vaginal rejuvenation and sculpsure procedures. I am very happy with my results and would refer any of my friends to do these!